On November 7, 2009
Gen. Casimir Pulaski became an American citizen,
230 years after the Polish nobleman died fighting for the United States. President Barack Obama signed a joint resolution of the Senate and the House that made Pulaski an honorary citizen.
Chicago Sun-Times >>>

September 15, 1777 the Continental Congress appointed Casimir Pulaski general of the cavalry .
more >>>
President Richard Zawisny

Sunday October 5, 2014
The Greatest Manifestation of Polish Pride in America will occur when the 77th Annual Pulaski Day Parade begins on Fifth Avenue at 12:30 pm. This year we are celebrating the canonization of our beloved John Paul II. more>>
Parish of St. Rose of Lima

Sunday, July 27, 2014
Pulaski Parade Committee
Parish of
St. Rose of Lima
Rockaway, New York
Marshals
Zdzislawa i Antoni Sokól
more >>>
Polonia of Long Island, New York

Saturday, June 28, 2014
Polonia of Long Island, INC.,
Miss Polonia Pageant
Marshal of Copaigue Sashing Ceremony



Marshal Mr. Bogdan Patalan
Miss Polonia Marta Krajewska
more >>>
City of Garfield New Jersey
Garfield Community Day

Historic Dundee Dam
River Walk Dedication
General Casimir Pulaski
Statue Unveiling
June 21, 2014
more >>>
Ozone Park Pulaski Parade Committee
Ozone Park, New York


Saturday June 7, 2014
Annual Sashing of 2014 Contingent Marshal
Mrs. Stella Domin
Miss. Polonia &
Little Miss Polonia Contest
St. Stanislaus B. & M. Parish
88-10 102nd. Avenue
Ozone Park, New York more >>>
Link: Jak jedna rodzina w Ozone Park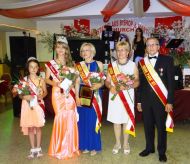 Foto: ELŻBIETA POPŁAWSKA
Od lewej: Julia Chmura - Junior Miss 2014, Alicja Siuzdak - Miss Polonii 2014, Stella Domin - marszałek Parady Pułaskiego 2014 z Ozone Park, Maria i Tadeusz Dworniczakowie - marszałkowie Parady Pułaskiego 2013
General Pulaski Memorial Committee
of Orange County, New York

Saturday, June 7, 2014
2014 Presentation Dinner Dance


Marshal: Mr. Vince Poloniak
2014 Miss Polonia: Christina Rose Joan Carmody
2014 Jr. Miss Polonia: Alida Goldsmith
2014 Little Miss Polonia's: Kristen Matuszewski
and Kyra Falone
more >>>
PLAV Post 16
Pine Island, New York

Link to Pictures by Christina Topolosky=>
South Brooklyn Pulaski Parade Committee
Brooklyn, New York

Sunday, June 1, 2014
South Brooklyn Pulaski Parade Committee
54th Marshal's Ball
& Miss Polonia Pageant
more >>>

Wallington Pulaski Memorial Association
Wallington, New Jersey

Saturday, May 31, 2014
The Wallington Pulaski Memorial Association
Sashing of
2014 Wallington Marshal
Hon. Slawomir Sulich

more >>>
Miss Polonia - Lauren Baginski
Little Miss Polonia - Julia Brzezinski

Gen. Pulaski Memorial Parade Committee, Newark, NewJersey

Saturday,
May 31, 2014

more >>>


Marshal: Mr. Franciszek Piwowarczyk
Miss Polonia: Miss Aleksandra Cison
Jr. Miss: Simone Koryczewska
Attendants: Miss Adrianna Pyda
and Miss Izabela Starczewska
The Kosciuszko Foundation

79th Annual Dinner
and Ball
April 26, 2014
The Grand Ballroom
The Waldorf Astoria Hotel
Park Ave, New York
Pulaski Assoc. of the Police Dept. NYC

Friday April 11, 2014
58th Annual Dinner Dance & Installation
of Officers
Richard C. Narog President
NYPD Pulaski Association
Gregory L. Lasak
2014 Man of the Year more>>>
87th Communion Breakfast
Holy Rosary Young Men's Club, Inc.

Holy Rosary Young Men's Club, Inc.
Sunday, April 6, 2014

Chairman  Greg Komeshok
Toastmaster Ray Bilar
Principal Speaker Richard Zawisny
National Anthems- Chopin Choir
Holy Rosary Auditorium
Passaic, New Jersey more >>>
Pope John Paul II Way

Street Co-Naming Ceremony
Pope John Paul II Way
Sunday, April 6, 2014

Holy Cross Church
61-21 56th Road
Maspeth, New York more >>>
FDNY Pulaski Association

Saturday, March 29, 2014
FDNY Pulaski Association
54th Annual Scholarship Dinner Dance
Terrace on the Park
52-11 111th Street
Flushing, NY
more >>>
Pulaski Association of Business and
Professional Men

Saturday, March 8, 2014
Gala Testimonial Banquet in Honor of
Man of the Year 2014
Mr. Adam Skarzynski

more >>>

Terrace On The Park
51-11 111th Street
Flushing, New York

General Pulaski Memorial Parade Committee
2013 Christmas Party

Polska Szkola Doksztalcajaca im. Aleksandra Janty-Polczynskiego w Lakewood NJ

Marszalek 2014 Polish Heritage Center pani Jolanta Wolak Miss Polonia zostala uczennica klasy X Barbara Gruszka
more >>>
Radio RAMPA Ball
Saturday, February 15, 2014
Grand Prospect Hall
263 Prospect Avenue
Brooklyn, NY 11215
Pictures >>>
2014 Pulaski Parade Grand Marshal Election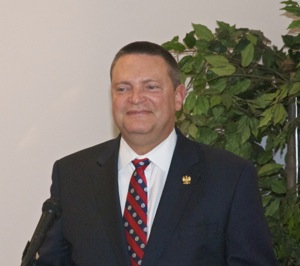 Thursday, November 21, 2013
2014 Pulaksi Parade Grand Marshal
Hon. Richard Berdnik
Sheriff Passaic County, NJ
http://www.pcsheriff.org
Polish Cultural Foundation
177 Broadway, Clark, NJ
more >>>
St Joseph Church New Brunswick, NJ
( Middlesex County)

September 21, 2013
2013 Marshal
Adam Stepien
Miss Polonia 2013
Julia Hanna
Vice Miss Polonia
Ilona Supel
 
Jr. Miss Polonia Victoria Kiselevskaya
Rutgers University Miss Polonias are:
Miss Polonia 2013 Joanna Jelesnianski
Miss Polonia 2013 Ewelina Gwiszcz
more >>>
Central of Polish Organizations, New Jersey


Saturday, September 21, 2013
Sash Night Banquet
2013 Marshal
Hon. Andrew Kaczmarek
Cracovia Manor, Wallington, NJ
more >>>
Pulaski Association of Saint Stanislaus Kostka R. C. Church, Garfield, New Jersey


Sunday, Sept 15, 2013
2013 Marshals:
Mr. and Mrs. John and Barbara Kondratowicz
2013 Miss Polonia Karolina Konior
2013 Jr. Miss Polonia Natalie Soltys
Royal Manor
454 Midland Avenue
Garfield, New Jersey more >>>
Pulaski Parade Committee of Stamford, CT

Saturday, September 7, 2013
Zabawa taneczna wraz z ceremonia przekazania funkcji marszalka i miss,
7 wrzesnia w sobote, w sali Polskiej Sobotniej Szkoly przy Kosciele Holy Name of Jesus.
2013 Stamford Ct.
Marshal Ms. Daria Opolski
Miss Polonia Adriana Dziedzic
Jr Miss Polonia Maya Zaleski more >>>
Pulaski Parade Committee of Linden, N. J.



Saturday Sept 7, 2013
Sashing 2013 Marshal Firefighter

Mr. Christopher Lukenda
Miss Polonias:
Miss Kellianne Domenico
Miss Julia Daria Wyrzuc
Jr Miss Polonias, Karolina Kepa and Marika Ficner
Linden Catering Hall
12 N. Stiles Street
Linden, New Jersey more >>>
Pulaski Parade Committee of Staten Island, NY

Friday, August 30, 2013
Sashing of 2013 Marshal
Bozena Niebrzydowska
The Old Bermuda Inn
301 Veterans Rd.
West Staten Island, New York 10309
more >>>
Pulaski Parade Fund Reaiser
Christmass in July

Sunday July 28, 2013 1pm
Pulaski Parade Fund Reaiser
St. John Kanty Church
49 Speer Ave., Clifton NJ
Polka music by Joe Stanky and Pennsylvania Cadets
Brunch catered by Brownstone
more >>>
Polish Army Veterans Association of America
District No. 2, Inc.

Polish Soldiers Day
August 18, 2013
National Shrine of Our Lady of Czestochowa
Doylestown, PA
more >>>
Polish American Cultural Association
Port Washington, New York

Saturday, July 27, 2013
Polish American Cultural Association
5 Pulaski Place
Port Washington, NY 11050

Sashing Marshal Mr. Joseph Ruszczyk
Miss Polonia Alexa Herman
1st Runner Up Miss Karolina Placzek
2nd Runner Up Miss Alexandra Osman
Music by the Ablemen more >>>
Polish Heritage Festival

Pulaski Parade Committee of Rockaway Beach, NY

Sunday, June 30, 2013
St. Rose of Lima Parish
Sashing Marshal
Mr. Andrzej Piszczatowski
more >>>
Pulaski Parade Committee
Saint Matthias Church - Ridgewood, NY

Friday, June 14, 2013
2013 Marshal Sashing
Mr. Jerzy Tadaj
2013 Miss Polonia
Miss Sandra Przebieglec
2013 Jr Miss Polonia
Maja Golaszewski
more >>>
Liga Morska - Swieto Morza

Saturday, June 29, 2013
Marshal:
Mr. Jan Chrostowski
Miss Polonia:
Weronika Pluszczewicz
Jr. Miss Natalia Socha
Our Lady of Consolation Parish
184 Metropolitan Ave
Brooklyn, NY 11211 more >>>
Pulaski Parade Committee of Greenpoint

Saturday, June 29, 2013
Sashing Marshal
Mr. Artur Dybanowski
Miss Polonia:
Miss Wiktoria Knapik
Polonaise Terrace
Greenpoint, Brooklyn, New York
more >>>
Marie Sklodowska Curie
Professional Women's Association


SCHOLARSHIP FUND RAISER
Ignacy Jan Paderewski
Essay Contest
Awards Presentation
Friday June 14, 2013
Princess Manor
92 Nassau Ave.
Brooklyn, New York
more >>>
Polish Cultural Foundation, Clark New Jersey
177 Broadway, Clark, NJ

Saturday June 15, 2013
Miss Polonia Pageant
2013 Marshal
Elizabeth Kebernik-Kubicz
2013 Miss Polonia: Miss Katarzyna Moscinski
2013 Jr. Miss Isabela Dylewska
The New Jersey Host Organization
of the
Polish & Slavik Federal Credit Union
more >>>
Pulaski Parade Committee of Manhattan
Saint Stanislaus B & M Church

Saturday June 8 , 2013
Miss Polonia-Manhattan Pageant
Saint Stanislaus B & M Church
101 E 7th St, New York, NY 10009
more >>>
General Pulaski Memorial Committee
of Orange County, New York

2013 Presentation Dinner Dance
June 1, 2013
2013 Orange County Marshal Julie Andryshak Cutler
Miss Polonia Ursula Ann Hillman
Junior Miss Polonia Victoria Czerepak
Junior Miss Polonia Madison Rylie Jashembowski
Miss Polonia Princess Lily Ann Beattie
Miss Polonia Princess Kya Ashleighy Stein
Katyn Memorial at Exchange Place
Jersey City, New Jersey

Sunday 14 April, 2013
Katyn Memorial Ceremony
Dedicated to the victims of the Katyn massacre (1940). more >>>